The Bugaboos are one of the most magical places anywhere.
Join us in this incredible playground for 5 days of learning and exploring among the glaciers and granite spires. This course is intended for anyone who wants to learn the basics of traveling safely in the mountains.
Learn how to travel on glaciers, climb steep snow and ice, protect rock ridges, and perform crevasse rescue. We will be staying at the Kain hut and taking day trips to climb and practice the new skills learned.
The days can be long, but the rewards amazing as you learn how to safely ascend these mountains on your own with the guidance and expertise of Kirsten Knechtel IFMGA Mountain Guide and Sarah Hueniken ACMG Full Alpine Guide.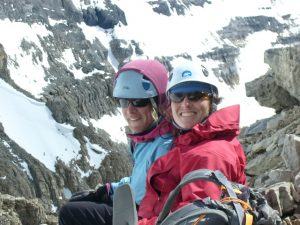 Dates: July 4-8 2016