Helmcken is a magical place. It is magical in the summer, in a lush BC forest sort of way, and it is magical in the winter, in a crazy glacier/cone/ice creating sort of way. If you have never been, it is truly worth the drive just to look at.
Of course, for me, half the lure in going to Helmcken Falls is to stay at the Helmcken Lodge. Not only will it be the quietest sleep you will ever have (unless the roof starts calving off huge snow chunks), but you will be fed and treated like kings and Queens by the worlds most kind, generous and giving hosts around. Expect to eat well, and plenty!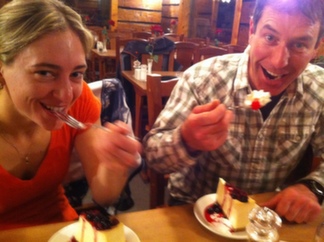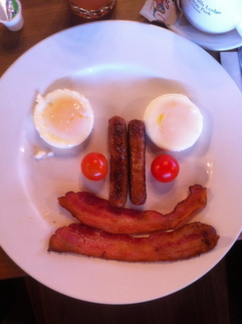 This year the focus for Helmcken was around a dream Will had since his first time there. The steepest line out of the cave with the most drytooling and icicle dangling potential. Him and John had already made a brief visit to the falls a couple weeks before I got there and had established the first three pitches of the new route. Reel Water Films and RedBull Media had learned about the project a while ago and were keen to tell the story.
I have been climbing a bunch this winter with Katie, John and Will, so to be part of the team of route builders, staying at the Lodge, I was pretty psyched! Originally I had hoped to return to Helmcken to climb Spray Ice, but this was not going to be the trip. Another time!
For a solid two weeks the team worked on creating the route. Some had more gear/talent/and experience building routes then others (aka John and Will…those guys have some serious skills!!)…but Katie and I definitely pulled our weight by spending time at hanging belays belaying, schlepping, encouraging and moving things around. I attempted to put my time in bolting but a nagging shoulder injury spoke louder then my intent ( I later learned that it was a rib injury from vomitting during the flu!). It was a bummer, but something about the motion of pulling in versus pulling up was really painful. A solid week of -20 temps did not make the process any easier. We all suffered some frostnip hanging out near the pounding water fall while getting sprayed during the route building days. Some scary highlights of these days was John taking a whipper on a quarter inch bolt on pitch 5 while bolting on lead, and Katie catching him as she got dragged through the portaledge! Another scary moment was while Will was rap bolting the 6th pitch his grigri biner opened up and at one point he was fully relying on a gri gri that was only caught by the nose of an open carabiner. Talk about a close call.
Of course, the usual hazards of spontaneous icefall, a nauseating constant drone of a huge waterfall, daily frozen fixed ropes that required several methods of banging to be able to ascend, and a daily commute down an ice climb and a large glacier like spray cone, all existed as well!
Lucky for us we were a team of 4, so generally in a 3 day work stint, atleast one of the days we could play on the existing pitches. They were super fun and required a change in head set for me. The first pitch is M10..and climbs cool spray ice blobs and overhanging mixed moves, but you are always still on your feet. It is cool because it ends in an actual ice dagger! Here you traverse left and get to the start of the 2nd pitch, or you could ascend a fixed line to just work the second pitch. This pitch was the crux and likely agreed upon as M12. It is pretty long and lots of steep climbing. I was close a couple times and managed to send it on my 4th try. Very psyched! It also ends by getting on ice, so it feels very much like a pure mixed route. What feels strange, is being so far off the deck and hearing the roar of a waterfall! The third pitch is also steep and the way we were climbing it, the belayer was still on the ground, so it meant a LOT of rope to pull up to make the clips. This definitely added some excitement, as not only were you so high and far from your belayer that you really needed a radio to communicate, but you had already used up 40 meters of your rope and clipping draws in figure 4's took more time then your grip wanted it to! I was happy to send this pitch as well.
These were the only pitches I tried…but I would very much like to go back and do the rest. Time was ticking after so many freezing cold days, and luckily the window was long enough for Will to send the entire route on lead from bottom to top in a day. It was an amazing effort. He climbed the first pitch, then climbed the second and third in one…which definitely makes it harder! From there I belayed him on the 4th pitch where, his first go he fell near the end. He came back down and regrouped and managed to send it next go. From there pitches 5- 7 went smoothly and just as dark was setting in, I ascended the rope to the top to celebrate! (Ok, ascending an 80 meter 9.2 on overhanging traversing terrain in the near dark was not such an easy task…but eventually, with some help, I did end up at the top where nearly the whole team was there to high five Will for the send.)!!
Sadly by the time things had wrapped up, Tim and Klems draws had already been cleaned from their new spray ice route. It was the final day, and I had an hour to play around on it with some of the draws we still had at the base. Despite the warm temps that day, most of the ice still forgave me long enough to have a fun time!! Nice work to those guys for creating that cool pitch and for Angelika for also climbing it. It looked really fun and it was, the bit that I was able to do.
What I take away from this experience, is alot of respect for this place. Even though we saddled up nearly daily to head down into the "hole" as we affectionately called it, it was and is a very tiring place to be. The hazards for sure, the physical exertion as well of getting out of said "hole", but mostly the noise. The constant roar of a huge waterfall is exhausting and a constant reminder of the forces that we didn't control.
I also met some amazing people (all the film crew…Brian, Dave, Pablo, Fred, and the Italians, Marcus, Angelika and Klaus) and got to share a cool experience with some people I already knew were amazing (Will, John, Katie, Andrew, Lynn, Carly, Tim, Klem and Christian)! Everyone worked so hard, and everyone stayed safe and made it happen.
It has taught me that if you are going to dream big…you better be willing to work hard for it.
Time to keep dreaming.